The beginner's guide to vaping
So you've decided to quit, or at least thinking about it, and are considering vaping as your first step to a healthier lifestyle.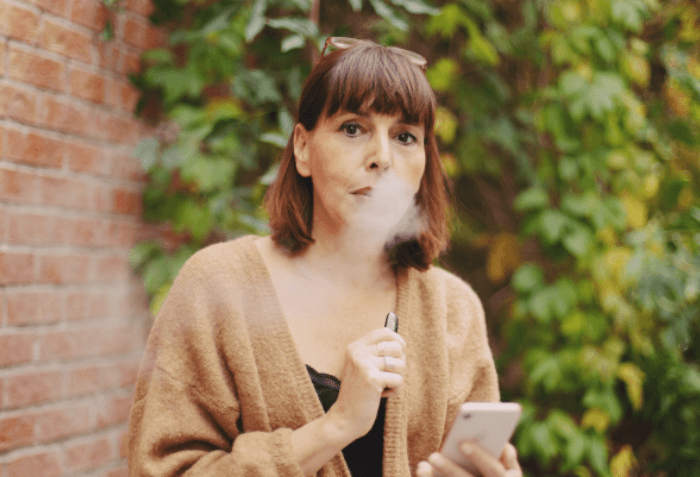 Where do I start?
Most smokers will start by contacting their GP or a 'Quit Smoking Clinic' run by their local health authority who can offer advice about their various methods available to you. They'll ask questions to determine what options would be best suited to you.
Among the many options, they may suggest vaping as it has been proven to be 95% safer than smoking and accepted as an alternative with a higher chance of success.
So you've chosen to start vaping.
The clinic or GP may offer advice on the different vaping products available to you or they may refer you to a specialist vape store like Which Vape who can advise on the different products available to you.
Which vape kit is best?
Vape starter kits are perfect for those new to vaping as they contain everything (except the e-liquid) that you need to start vaping. They will include a rechargeable battery, usually integrated into the device, and a refillable tank or pod. An atomiser or coil that is installed in the tank or vape pod and is either fixed, as in a disposable pod, or replaceable as in most tank systems. Many of these vape kits are referred to as AIO or All-In-One devices. The simplest type of vape kit is a disposable vape that has a sealed tank and is designed to be discarded when the liquid runs out or the battery runs flat.
Battery: Rechargeable, supplies the power to the coil.

Coil/atomiser: Heated element that converts the e-liquid into vapour.

Tank: Contains the e-liquid (2ml in UK TPD vape kits) and coil.

Pods: Can be refillable with replaceable coils or sealed units that you change when empty.
Charging your vape
Unless it's a disposable vape, your vape starter kit will come with a charging cable. Most devices use USB charging and can be charged via your computer whilst working, in the car whilst travelling or with a powerbank or suitable wall charger. You will usually have to charge your device before you use it for the first time. Always follow the safety instructions when charging your vape.
Installing coils/atomisers
Vape coils or atomisers convert the e-liquid into a vapour this is then inhaled. The vaping liquid is absorbed by a cotton wick that surrounds the coil or heating element which is then heated to a very high temperature to produce the vapour. Most vape starter kits, whether it has a vape pod or vape liquid tank with usually come with a recommended coil already installed, and a spare or alternative coil. Coils are usually installed in the base of the tank or pod. Depending on the type of vape, many pod systems will have a simple push-click install, the coil is simply screwed into the bottom of the tank or onto the top of the battery.
Filling your vape
Filling your tank or vape pod used to be a rather fiddly and slightly messy operation. Modern vape kits are thankfully much easier to fill. Vape pods are usually filled from the bottom via a small hole which is then sealed with a leak-proof silicone plug, whilst vape liquid tanks are designed to be filled by removing the mouthpiece on the top, top-fill tanks, or by unscrewing the base of the tank and filling from the bottom which requires the user to first remove the tank. Vape pens like the Jac Vapour S17 and S22 use the simpler top-fill which makes them much easier to fill.
UK TPD regulations restrict the size of pods and tanks fitted to vape kits to a maximum of 2ml of e-liquid.
Vape pods:

Pre-filled disposable units or can be refilled, usually through the base with a simple click-on, click-off operation.

Vape tanks:

Either a simple top-fill or a bottom fill option. U.K TPD regulation maximum size of 10ml.
E-liquids (vape liquids) and Nicotine Salts
E-liquids sold in the UK are highly regulated and have four primary ingredients, Nicotine, Vegetable Glycerine, Propylene Glycol and flavouring. The VG and PG are used to deliver the nicotine whilst the food-grade flavouring provides an enjoyable taste. Standard e-liquids have a 'base nicotine' which has been refined, similar to nicotine found in cigarettes. Nicotine salts use more natural nicotine as extracted from the tobacco plant. Nic salts provide a stronger and faster nicotine hit. Perfect for medium to heavy smokers making a switch to vaping for the first time. E-liquids and nic salts come in varying strengths to suit different vaping styles.
E-liquids:

Highly regulated and supplied in 10ml max size when containing nicotine. Use refined nicotine. Different flavours and different strengths.

Nicotine salts:

Same regulations as e-liquids. Uses natural nicotine extract. Stronger, faster acting. Different flavours and strengths.
When filling your tank or pod with e-liquid for the first time, always let it stand for about 10 mins to ensure that the liquid has saturated the cotton in the coil/atomiser. If not, the cotton will be dry and it will burn. This is referred to as a 'dry hit' and will destroy the coil as the vape produced will have a harsh taste. It's always important to keep your liquid topped up to avoid this happening when using your vape kit.
If you're storing your e-liquid for any length of time, always store your liquid in a cool, dry environment out of direct sunlight as the flavour and nicotine strength will degrade over time.
Operating your vape
Vape starter kits have three popular methods of operation which are, variable with a fire button, fixed with a fire button and draw-activated without a fire button. The fire button is also used as the main on-off button. Many manufacturers illuminate the fire-button to indicate when it is in operation, also level of charge and power on or off.
Adjustable:

more advanced starter kits will allow you to adjust airflow and in some cases power output.

Fire Button:

Many vape pods and vape pens will feature a simple fire button that is pressed to operate and to turn the device on or off.

Draw Activated:

Most disposable vapes and more innovative vape pod systems now use a simple draw activated operation that fires when you suck on it.
Using your vape.
Current vape starter kits are designed to be simple to use. The final choice will come down to personal preference. Do you want something small and simple to use? Do you want something that gives you a greater level of adjustment to suit your vaping style? Whatever your choice, Which Vape have a range of vape starter kits to suit all budgets and vaping styles for people new to vaping. There are two styles of vaping commonly referred to as MTL (Mouth To Lung) and DL (Direct to Lung). The majority of starter kits are designed for MTL vaping as this mimics the way that people smoke. When you smoke or vape you draw the vapour into your mouth by sucking, then into your lungs before finally expelling it. The other method draws the vapour directly into the lungs by inhaling directly through the mouth.
All our vaping kits come with full operating instructions and advise on the best coils for MTL or DL vaping. You can also view the instruction manuals online here.
Using safely
Modern vape devices are extremely safe to use with internal controller chips that regulate the power, wattage and temperature to prevent the device from failing. As with any rechargeable device, fully the instructions for charging carefully to prevent damage to your vape. Keep your vape away from small children and always vape responsibly.
E-liquids contain nicotine which is poisonous in large doses. Nicotine is not suitable for minors, pregnant or lactating women, people who suffer from cardiovascular disease, seizures and medical disorder requiring them to avoid the use of nicotine. E-liquid is sold in tamper-proof bottles and should be stored out of the reach of children.
Diagram of a typical modern vape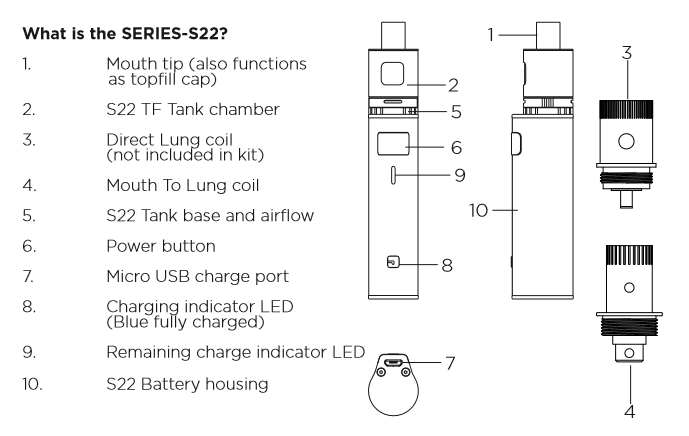 Further reading:
Useful videos:
Vaping Demystified video. Why vaping is better than smoking.
Photo credit Elsa Donald