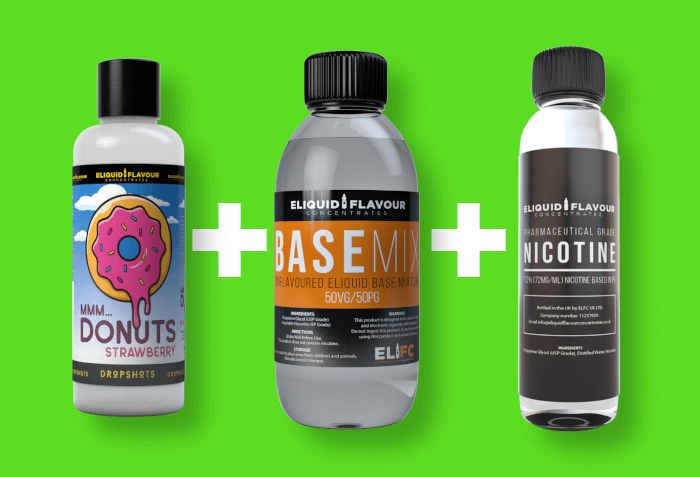 Make my own vape liquid at home
If you can make a cup of coffee, you can make your own e-liquid. Making e-liquid yourself is a cheaper alternative to buying premium vape liquids over the counter. DIY e-liquids offer infinite possibilities as you can experiment with flavours, nic strengths and VG, PG blends. It's also highly rewarding, not just in cost savings, also in the satisfaction that you've done it yourself.
The easiest way...
Making e-liquid, put simply, involves mixing the main ingredients which include, flavourings, VG base, PG base and nicotine concentrate in the desired amounts. The easiest way to start is by buying one of the many readily available 'flavour shots'. These are ready-made recipes of blended flavours that are used in e-liquids that are ready to buy.
E-liquid recipes, flavour shots & drop shots
Flavour shots and drop shops are pre-mixed flavour recipes that can be bought in the required amount of flavour concentrate. For example, a flavour shot with a 20% mix is added to an 80% base mix to make up the full 100% volume. A 30ml flavour shot would make 150ml of e-liquid. Drop shots are similar to drop shots, the difference is that they are supplied in a larger bottle to which you can add the base liquids. A 150ml bottle would contain a 30ml flavour shot with room to add 120ml of your desired base liquid. This makes it easier and cuts down on the number of bottles or containers that you need.
Adding your base liquids
Base liquids are the main elements that are added to the flavour shots. VG (Vegetable Glycerin) and PG (Propelyn Glycol) are the two main ingredients that go into making e-liquid. Depending on your preference and vaping style, the VG, PG quantities will vary. The more popular blending ratios as sold over the counter are 50:50 VG:PG and 70:30 VG:PG. This means for every 100ml you'd have 50ml of VG base and 50ml of PG base.
Without making it seem complicated, the base mix of your flavouring and nicotine will affect the amount, or ratio of VG:PG mix. 30ml of flavouring and 20ml of nicotine with a 100% PG blend will add 50ml of PG.
As already mentioned, the third base element is nicotine concentrate. The amount of nicotine concentrate you add will depend on the strength of the nicotine and the nicotine content you want in the final result. A stronger concentrate would require less to be added, also a lower nicotine content would require less concentrate. 3mg nic strength e-liquid would require less than a 12mg e-liquid. As an alternative, if you don't want to handle high-concentrate nicotine you could produce your DIY liquid without nicotine and just add 18mg nic-shots (as with short-fills) later before you vape.
Where to start?
If it's your first time, I would recommend starting with a 'flavour shot' or 'boss shot' (available from Flavour Boss). These are ready-mixed flavour recipes of their best selling e-liquids that are supplied in larger bottles for adding your base liquids. As well as your chosen flavour add a pre-mixed blend of VG, PG liquid in either a 50:50 or 70:30 ratio. This will save your measuring out the quantities. However the final result won't be spot on, it'll be pretty close, depending on the VG:PG of your flavouring and nicotine to start.
Suggested mixing ratios using flavour shots:
| | |
| --- | --- |
| 250ml 50/50 3mg | ml |
| Nicotine Base PG 7.2% | 10.5ml |
| Flavour Shot | 50ml ( 20% ) |
| 100% VG Base Mix | 124.5ml |
| 100% PG Base Mix | 65ml |
| Total | 250ml |
| | |
| --- | --- |
| 250ml 70/30 3mg | ml |
| Nicotine Base PG 7.2% | 10.5ml |
| Flavour Shot | 50ml ( 20% ) |
| 100% VG Base Mix | 174.5ml |
| 100% PG Base Mix | 15ml |
| Total | 250ml |
| | |
| --- | --- |
| 250ml 50/50 6mg | ml |
| Nicotine Base PG 7.2% | 21ml |
| Flavour Shot | 50ml ( 20% ) |
| 100% VG Base Mix | 124ml |
| 100% PG Base Mix | 55ml |
| Total | 250ml |
| | |
| --- | --- |
| 250ml 70/30 6mg | ml |
| Nicotine Base PG 7.2% | 21ml |
| Flavour Shot | 50ml ( 20% ) |
| 100% VG Base Mix | 174ml |
| 100% PG Base Mix | 5ml |
| Total | 250ml |
These calculations are approximations based on a typical flavour shot specification. You can increase or decrease the amount of nicotine as required. We would suggest adding the nic shot to the flavour mix and then topping up with the chosen VG/PG base liquid to the recommended level. Remember to shake thoroughly before storing and regularly during the required steep time.
There are many free e-liquid calculators on the internet. The one by Steam Engine e-liquid calculator is one of the best.
Steep Time: The amount of time allowed for the ingredients to mix completely for the best results. See below.
Steep times & storing your e-liquid
Ok, so you've made your first batch of e-liquid, now it's time to let all those ingredients mix for the best flavour and performance. The flavour recipe manufacturers will recommend a particular steep time for the best results. What is steep time? To allow the ingredients to blend or mix thoroughly they will need time, the amount of time depends on the flavours in the mix. Some flavours take longer than others to allow the elements to mix completely. We would recommend storing your new batch of e-liquid in a cool dark place, taking it out occasionally to give it a shake. Some flavour recipes, though few, can be vaped once the bubbles have settled, others require a steep time from 1 week to 6 weeks. Believe me, it'll be worth the wait!
A word of caution
Nicotine is a highly toxic substance and can cause a serious reaction in large quantities. Always handle nicotine carefully, we recommend using gloves, as a minimum, when handling nicotine concentrates. Always keep your bottles closed and out of reach.
To purchase high PG concentrates we require you to sign up for an account so that we can verify your age and details.