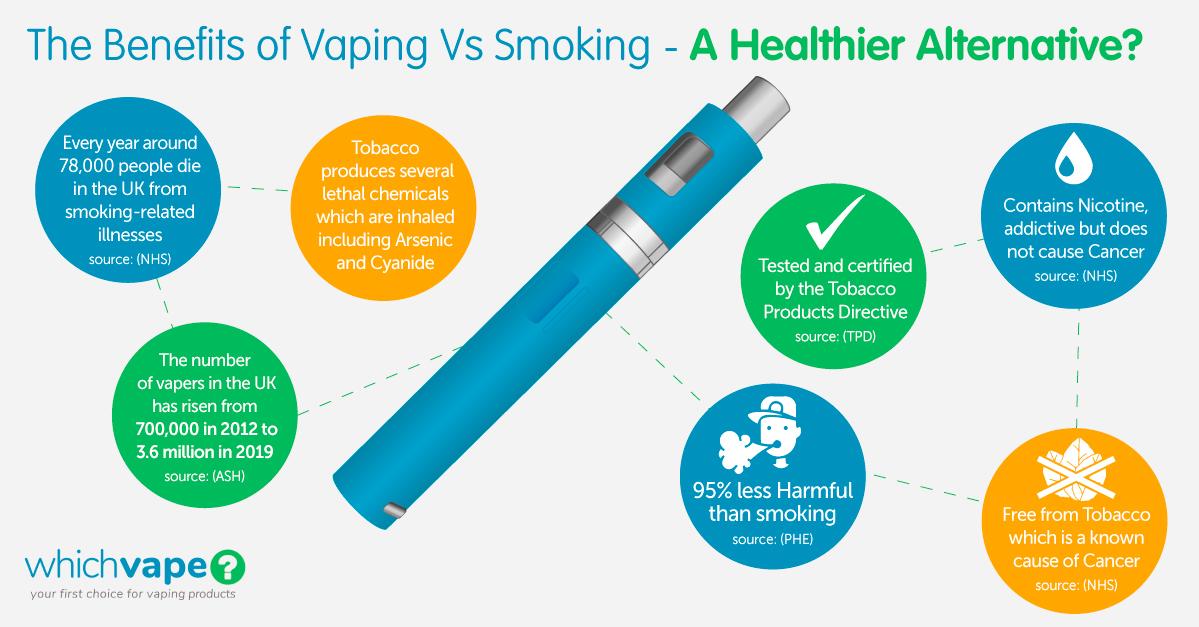 YES! Despite all the miss-information and horror stories that portray vaping in a negative light, vaping is still considered to be 95% safer than smoking.
The facts about smoking...
Smoking is the burning of a substance, namely tobacco which contains the addictive chemical nicotine. Unfortunately besides the nicotine, it also produces a surprising amount of extremely lethal chemicals which are also inhaled, these include:
Carbon Monoxide.
Benzene
Arsenic.
Cadmium.
Formaldehyde.
Tar.
Hydrogen Cyanide.
Nitrogen Oxide.
You'll probably be alarmed to see some of those poisonous chemicals on the list, these are just the most dangerous chemicals and by no means all of them.
I'm sure everyone has heard of the sticky residue called tar, the byproduct which has been associated with throat and lung cancers along with various blood and arterial diseases. However, there are also present numerous well-known poisons like Arsenic and Cyanide which get into the bloodstream every time you smoke.
Every year around 78,000 people die in the UK from smoking-related illnesses. Do you want to be one of them?
The facts about vaping...
Public Health England (PHE) maintains that vaping is 95% less harmful than smoking. It is the most popular aid to quit smoking in the UK with 65%–68% of people who used e-cigarettes as part of their cessation program succeeded in quitting. Public Health England also released a video to best illustrate the difference between smoking and vaping. Recent deaths and lung diseases attributed to vaping have been linked to the use of vitamin E-acetate, a thickening agent used in marijuana vaping liquids. This chemical along with many others are banned for use in the UK by The Tobacco Products Directive ensuring that vaping products are as safe as is possible. The number of people vaping in the UK has risen from around 7,000 in 2012 to 3.6 million in 2019, nearly half of the number of people who still smoke.
What is vaping?
Vaping, unlike smoking, doesn't burn a substance, it superheats it. A liquid containing nicotine is drawn over a superheated coil which in turn produces a vapor, hence the name vaping. This liquid is made up primarily of two or more ingredients, VG and PG being the primary components to which flavours and the nicotine is added.
Vegetable Glycerin or VG is a thick, sweet liquid. VG produces the large clouds of vapor that you often see. VG also imparts a sweeter taste to your liquid. Propylene Glycol or PG is a much thinner tasteless liquid that gives the throat hit similar to that of smoking.
Is vaping regulated in the UK?
In short, Yes! You'll often see e-liquids and nic salts being described as TPDCompliant, this is because they have been tested and certified by the Tobacco Products Directive. Below is a list of the strict regulations introduced by the TPD.
The TPD introduced new rules which ensure:
minimum standards for the safety and quality of all e-cigarettes and refill containers (otherwise known as e-liquids)
that information is provided to consumers so that they can make informed choices
an environment that protects children from starting to use these products.
From 20 May 2017, the new requirements:
restrict e-cigarette tanks to a capacity of no more than 2ml
restrict the maximum volume of nicotine-containing e-liquid for sale in one refill container to 10ml
restrict e-liquids to a nicotine strength of no more than 20mg/ml
require nicotine-containing products or their packaging to be child-resistant and tamper-evident
ban certain ingredients including colourings, caffeine, and taurine
include new labeling requirements and warnings
require all e-cigarettes and e-liquids be notified to MHRA before they can be sold
We hope that we have answered some of the questions you may have been asking. In short, though it's not 100% safe it is still considered to be 95% safer than smoking and a very popular and successful aid to quitting.
The latest reports from ASH (Action on Smoking and Health) says the number of vapers in the UK has risen from 700,000 in 2012 to 3.6 million in 2019 - and 54% of these have given up smoking entirely.
Useful Links: